Below you can find a step-by-step guide on how to set up and use this connection.
1. Create a new App in the Zoom App Marketplace
First, access this URL: https://marketplace.zoom.us/ which is the Zoom developers platform. If you are signed in to the Zoom platform, in the same browser, then you will be automatically logged in here too.
If not, then, first use the "Sign In" option from the upper right corner to sign in:

Complete the details (email address and password) of your Zoom account to sign in. After you have signed in to your account, click on the "Develop" section, to open its drop-down:

When the drop-down is opened, select the "Build App" option: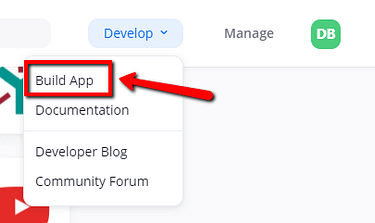 In the page that opens, you will have to start building a new app. Type in a name for the app in the "App Name" field and deactivate the "Intend to publish this app on Zoom Marketplace" option like this: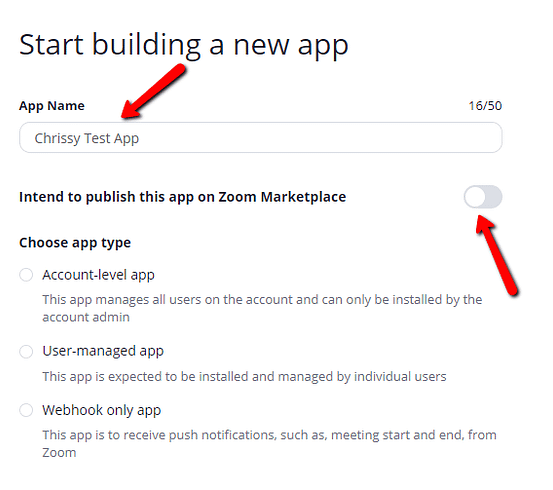 Then, choose the "Account-level app" type. This will open the "Choose authentication type…" section. Click on the little down arrow next to it, to open the drop-down:

Now, choose the "JWT API Credentials" app type from the list: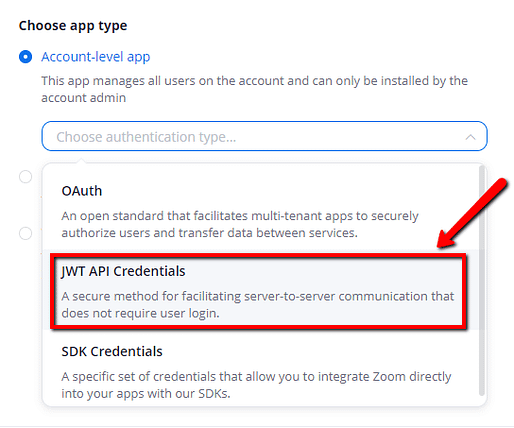 Important! You must create a JWT app type to get the API credentials and for the connection to work properly. In order to create this type of app, you will need to have admin/owner role privileges of the Zoom account.
After you have completed these steps, click on the "Create" button, from the lower right part of the page:
If this is the first time that you create an app in your Zoom account, then at the next step, you will have to complete three fields with the following information: your company's name, your name and your email address.
After you complete the necessary fields, you will have to click on the "Continue" button and the app will be created: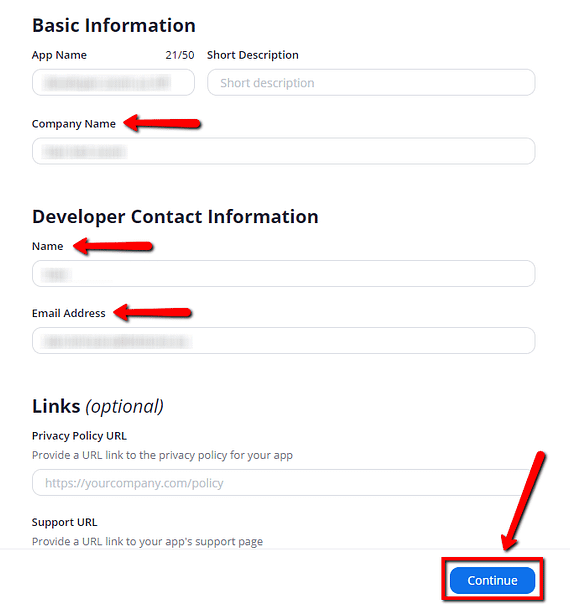 Once the JWT app will be created, you will have access to the API Credentials that you need to set up the connection with Thrive Themes.
Note: If you have already built the JWT app type, then, after you sign in to the developers platform, click on the "Manage" option, from the upper right corner of the page:

Then, click on the name of the JWT app that you have previously created, to access it: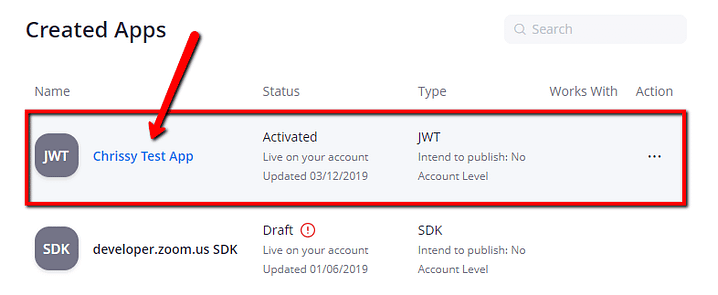 2. Copy the "API key" and the "API Secret"
After you build the JWT app type, you will be redirected to its page. Look for the "App Credentials" section from the left side menu of the page: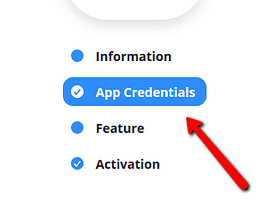 Once you access the "App Credentials" page, you will see the "API Key" and the "API Secret". Copy these two: